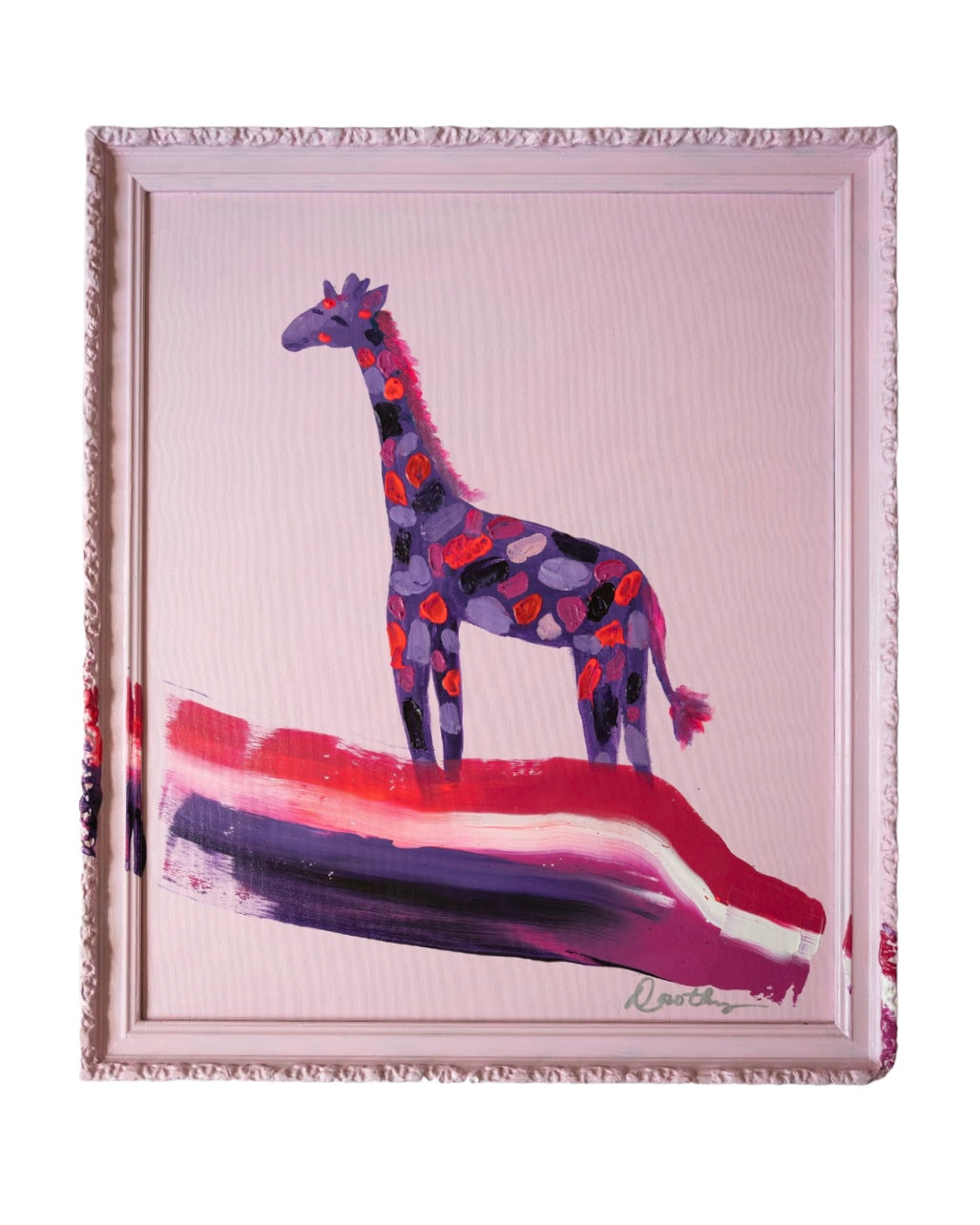 "The Happiest Giraffe" from Rainbow Fauna
Regular price $600.00 Sale
22.5x26.5" acrylic on canvas in vintage frame, wired on back for easy hanging, signed by Dorothy
"The Happiest Giraffe" is a captivating acrylic painting that invites viewers into a dreamlike realm where imagination runs wild. The centerpiece of this enchanting artwork is a majestic purple giraffe, adorned with a magnificent coat of vibrant purple and delicate pink spots. Its elongated neck gracefully rises above the horizon, capturing attention with its unique presence.
Standing on a canvas transformed into a fantastical dreamscape, the giraffe finds itself perched atop a breathtaking rainbow. The rainbow boasts a palette of soft pinks, ethereal whites, and deep purples, merging harmoniously to create an awe-inspiring spectrum of colors. The rainbow arcs across the canvas, seemingly painted by the hands of whimsy itself.
The vibrant shades of pink and purple used for the giraffe and its spots exude a sense of playfulness and joy, amplifying the fantastical atmosphere of the composition. The giraffe's expressive eyes gaze out into the world, as if inviting viewers to embark on a magical journey into their imagination.
Adding a touch of nostalgic charm, the painting is encased within a vintage baby pink frame. The ornate detailing of the frame enhances the artwork's overall elegance, providing a delightful contrast to the contemporary acrylic painting. The frame's soft hue complements the painting's palette, seamlessly integrating with the whimsical essence of the piece.